alternate realities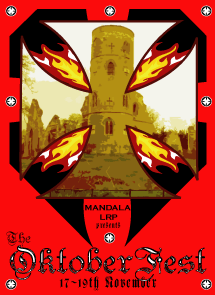 Fantasy
Curious Pastimes
Date : 17-19th November 2006
Location : Kibblestone Scout Camp
Ticket price : £60
Player spaces : 50
Crew spaces : 20
Catering : Full inc banquet
Accomodation : Indoor bunks
Alcohol : Bar provided
Event Start : Friday 7pm
Event End : Sunday 2pm
Time Out : 2am-10am

17-19th November 2006 ~ Kibblestone Scout Camp , Oulton , Stone , Staffordshire ST15 8UJ
Itís the time of year when revellers from across the continent come to celebrate the Teutonian skill at brewing. Traditionally hosted near the town of Friedburg, this ancient festival is as well known for its revelry as it is for renewing old acquaintances, and forming of new bonds. Old rivalries are put aside for the duration of the festival and the focus is purely on good food and good ale. This particular Oktoberfest celebration is hosted by Klaus Burgenheim, in a village near the town of Freiburg. Held at the Cobra's Head tavern, chosen for its renowned food and well stocked cellar as well as its ample overnight accomodation. There is also the added attraction of a local curio in the form of an ancient tower of unknown origins.
BOOKING IS NOW CLOSED

"Intense and enjoyable"
"Enjoyed myself plenty"
"Once again excellent use of site and resources, plot aplenty and much fun for all."
"I was apprehensive at first but ended up awestruck by the sheer quality of the tower/orbs/golem thing: I want more!"
"excellent site, plot, props, monsters, set, food, etc.; basicly everything."
"Fantastic preperation and Props, wonderful set dressing with a real atmosphere, just about dangerous enough without being deadly, and fun all round"