alternate realities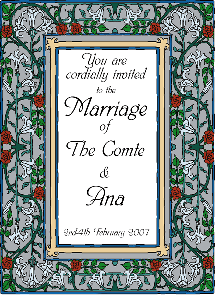 Fantasy
Maelstrom
Date : 2nd-4th February
Location : Kibblestone Scout Camp
Ticket price : £40
Player spaces : 90
Crew spaces : 0
Catering : Full inc banquet
Accomodation : Indoor bunks
Alcohol : Some provided, bring your own
Event Start : Friday 8pm
Event End : Sunday 1am
Time Out : time ish to sleep

2nd-4th February ~ Kibblestone Scout Camp , Oulton , Stone , Staffordshire ST15 8UJ
This is a player event set in Profound Decisions world of Maelstrom aimed at Millenese and Freeport players and friends..
What is a Player Event?
Full details can be found at Profound Decisions website
In summary for those who donít know a player event is an event run by players in the Maelstrom universe. There will be no plot or refs at the event and it is run on a trust basis.
So can anyone attend?
The event is primarily aimed at subjects of Mill-en and members of Freeport. Other people are welcome but the organisers reserve the right to refuse any character or player entry if they so choose.
So why should I come what have you got planned?
After the success of the event we ran last year we were asked if we would run another one so we decided to J.
Nothing has been finalised as yet of the exact details but the basic format will be that we go time in on Friday night (we think about 8pm) and time out some point late sat night/ Sunday morning. We will be providing basic food for Friday night, and meals on Saturday. Bunks should be available for everyone.
The site has 2 main halls, a fire pit, a lawn and lots more land. We will be looking to run entertainments in line with a Royal wedding as well as providing space for people to be together and socialise more details will be in the event pack you will get sent before the event.
The price includes accommodation, Food, including a large banquet type spread on the Saturday night, and some alcohol.

We realise some people may not want to turn up till the Saturday so will be planning the wedding celebrations themselves to start late morning (10.00/11.00ish)
So how much then?
£30 before 5th December, £35 before 5th January, £40 after that and £50 on the door. We reserve the right to turn anyone away who turns up on the day and has not booked.
There are also a limited number of crew spaces if people are interested. Please contact us if you are interested in crewing instead of playing.
Can I bring my kids?
As this is the player event the same age restrictions do not need to apply as do at a PD event. This means that children are allowed to attend but please let us know and talk to us first. We can not provide separate accommodation for families though.

Booking forms and payment:-
We accept bookings either electronically or by post.
Electronically:- E-mail details to wedding@mandalalrp.co.uk
By Post:-
You may download a booking form here
Mandala LRP c/o 141 Marlborough Road, Stoke, Coventry, CV2 4ES Cheques made payable to Tom Jewell
Will I get a confirmation of my Booking?
Once we have received your booking we will send an IC invite out and will also confirm the booking. These may not be straight away as we may well want to get a few bookings in first.
You will also receive an event pack by e-mail before the event, if you do not have an e-mail address this will be sent by normal mail.
BOOKING IS NOW CLOSED

"Brilliant job, most OOC hassle-free event I've ever been to."
"Lovely site, good atmosphere, great catering, all in all a lot of fun."
"I think the money was used wisely, taking into account the variety and quality of the catering. I was very impressed."
"Admin and refs were great, always there when needed."
"As it was my first event in the system I was really impressed"
"Had a fun event, found lots of opportunity for good roleplay."