alternate realities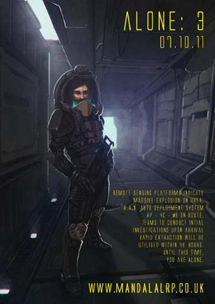 Sci Fi
Gunfest
Date : 7-9th October 2011
Location : Johns Lee Wood
Ticket price : £150
Player spaces : 45
Crew spaces : 25
Catering : Full (basic)
Accomodation : Indoor bunks
Alcohol : No alcohol
Event Start : Friday 8pm
Event End : Sunday 3am
Time Out : 24 hour time in

7-9th October 2011 ~ Johns Lee Wood , Markfield Lane , Markfield , Leicester LE67 9PS
BOOKING IS NOW CLOSED

"For attention to detail, immersive props, skill based challenges, and a coherent and accelerating plot full of terror, tension and camaraderie; Mandala's 'Alone' series of Roleplays cannot be beaten"
"my first full time larp event and what a bench mark to set, an adrenaline fueld thrill ride full of terror and fear. truely fighting for survival with unknown forces moving against you. everything can be tinkerd and toyed with and you never know what might happen next. 100% 10/10 top marks, im coming next time no matter what"
"The Alone series kicks Alien ass! "
"Mandala still run the best high concept larp events the world has to offer."
"Awesome role play and attention to detail from crew and players. Totally immersive experience. Excellent."
"Incredibly immersive, tense and engaging roleplay experience the likes of which I've never seen anything come close to before."