alternate realities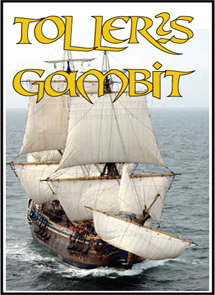 Fantasy
Curious Pastimes
Date : 6th-8th April
Location : Consall Camp
Ticket price : £60
Player spaces : 50
Crew spaces : 30
Catering : Full (basic)
Accomodation : to be decided
Alcohol : Bar provided
Event Start : Friday 7pm
Event End : Sunday 2pm
Time Out : 2am-10am

6th-8th April ~ Consall Camp , Blakeley Lane , Dilhorne , Stoke on Trent ST10 2PS
Toller Maraquaine is a man of many contradictions and subject to a great deal of speculation. His support for the Trade Council has undoubtedly benefited the development of trade and commerce amongst the factions and has helped form many new trading partnerships. But where does he come from? Why is he involved in this matter? What is in this for himself? Recently his work with the Celestial College has shown another side to his interests and he has freely given lectures and tutorials on the form of the land, recording this form and ideas of what may lie beyond our sight. Two Renewals past he was delivered in a near death state to the Al Gaia encampment for the attention of Brother Joseph, once healed he told of a mighty expedition to the pole of Corporeal. He spent some time lecturing in the college and displayed a chart, which if true, mapped an area of the land not known to members of the factions. He claimed to have expended a mighty amount of men, material and magic sailing upward until he landed on the physical shore of the pole of Corporeal. Here his story breaks a little as he was severely wounded shortly after landfall. Besides the map there is one piece of disturbing evidence. Oh his initial return he held a clipping from a plant unknown to academics and alchemists alike. This in itself might not be sufficient to stir interest, but the fact that two years later the cutting remains as green and as fresh as the day it was picked from the place of Corporeal and Life hints at great secrets and wealth to be discovered. Now Toller is organising a second expedition including members of the factions and other interested parties. Partly funded from his own purse and kind donations from interested parties, the expedition to the Pole of Corporeal is planned for the coming spring. Safe in our mundane continental lands we rarely see the majesty and wonder that our greater lands present. Scholars theorise that as you approach one of the cardinal points then the effect of that pole moulds and affects the life and fauna surrounding it. What bounty this might present at the pole of Corporeal is beyond our current imaginations. The chance to discover new lands and new races is not often had and should not be ignored lightly.
BOOKING IS NOW CLOSED
"Could be my best larping experience so far!"
"Great plot, amazing monster kit and props."
"awesome set pieces and costuming, Overwhelming plot."
"The best event ive been to"
"Excellent Mandala events just get better and better"
"Open and very accessable plot, Amazing props and site use."