alternate realities
current systems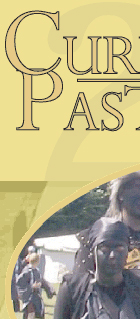 Curious Pastimes
High Fantasy Fest Game
Curious Pastimes is a large fest with a high fantasy feel. Its flagship event is on the August bank holiday with 3 further events throughout the year. The system has many familiar races such as elves, dwarves, orcs and trolls with provision for players to create their own races, using generic background racial abilities. Players are camped in one of seven areas at events - Jhereg, Lions, Wolves, Vipers, Algaia, Fir Cruthen, Steppe Alliance or Mercenaries.
Mandala runs two events per year which are sanctioned at the highest level by CP to make them as seamless as possible with the main system. These two events are typically smaller, allowing us to detail out aspects of the world and give a more personal interactive experience. Events which happen at these events will have a knock on effect to the main events, and there will be NPC's that you recognise from the main events. Likewise you will be able to forage, scout, conduct rituals (where ritual circle present), craft, do alchemy etc as if you were attending a main event. Also if your character dies, then it will not be possible to play them at any future Curious Pastimes events.
Gunfest
Modern/Near Future Small Trust-based Game
Gunfest is a loose system for invite only games run by a small changing group of people. These rules are designed to be almost freeform, with a large degree of trust in the player base. Rigid rules enforcement is not applied, relying on common sense and a shared interest from both players and organisers in making the game as good as possible.
Mandala is using the Gunfest rules system for a series of new games, the first of which is Alone. These rules are often written and rewritten by the organisers of the game and so change frequently. It is worth bearing in the mind that this is perhaps a much looser system than you are used to. Rules are interpreted how you see fit, and safety considerations are kept to common sense on the part of the individuals involved. Refs are present in Gunfest more for the purposes of keeping the game moving than to check on safe play or correct rules adherence.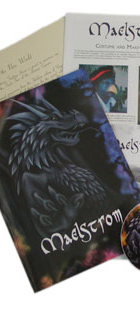 Maelstrom
High Fantasy Fest Game
Maelstrom is a live role-playing game set in a high fantasy world of colonialism and magic. The rules have been specifically designed to allow hundreds of players to role-play simultaneously at large outdoor events run by Profound Decisions.One inspiration for Maelstrom is the early colonial period in the new world of the Americas. As you will learn from reading more of the world background, there are many stark differences between the American colonies of the 17th and 18th century that we know from history, and the fantasy colonies of the Maelstrom world. However, much of the spirit of the setting is similar.
Mandala currently runs a periodic player event as specified on the Profound Decisions website. This essentially means that this event is for players to interact outside of the main events, but no official refs will be present. Despite this, actions taken at a player event have the same campaign consequence as actions taken at a main event.